VALUABLE INSIGHTS OF GLOBAL EDUCATION AND SKILLS FORUM 2018 IN DUBAI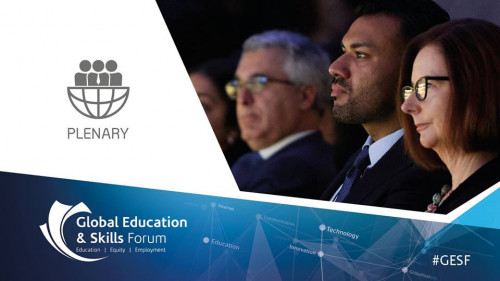 One of the most global events in the world of education - Global Education and Skills Forum 2018 took place in Dubai on March 17-18, 2018.
This year the GESF was held for the sixth time, and the problems of education, equality, and employment for everybody got in the focus of its participants and speakers.
World leaders of the state, private and social sectors, financiers, entrepreneurs, public figures, chiefs of any size business, philanthropists, teachers, school leaders, reformers from different spheres traditionally attend the event. Such affluent mass media as The Times, Washington Post, The New York Times, Forbes, Huffington Post and otherswrite about Global Education and Skills Forum.
The Global Education and Skills Forum 2018 united more than 2800 delegates, 290 spokesmen and attracted 25 leaders of national standing and ministers of education.
The ceremony of awarding the best teachers – winners of the prestigious Global Teacher Prize, which marks the most outstanding educational achievements and innovations of the teachers from the whole world was traditionally held during the forum.
The Global Teacher Prize is considered to be a kind ofofNoble Prize for the teachers. This award is awarded each year for the strong contribution to the teacher's profession and at present amounts up to 1 million USD.
Some of the winners of the past years:
2015 – Nancie Atwell, USA. The project - to teach kids literature in innovative form of workshops.
2016 - Hanan Al Hroub, Palestine. The project – teaching technics of teaching kids, traumatized by violence.
2017 - Maggie MacDonnell, Canada. Project – solving of teenage suicide problems.
In 2016 the Ukrainian already broke in TOP-50 of Global Teacher Prize: Anna Dudych from Kropyvnytskyi proposed to create mobile portable STEM-labs for an access of underfilled and insufficient equipped schools to new teaching technics.
The British teacher Andria Zafirakou, who learned 35 languages in order to create in school a comfortable environment for her pupils among which there are lots of migrants, became a winner of Global Teacher Prize 2018. Andria teachers in Alperton Community School in suburbs of London, which is being attended by many kids from low-income families and her mission is to help pupils not only with study but also with further integration into the adult life.
Chief Business Development Officer of the NAVIGATOR Viktoriia Yevtushenko attended Global Education and Skills Forum 2018 on a working visit and shared the most valuable insights, received on the forum.
New wave of technologies is closer than we think
One of the most important key moments of the forum was a growing role of technologies in education. We cannot deny the role of VR/AR, robotics, and artificial intelligence in changes of educational process and we cannot underestimate their potential for drastic changes in education at all levels.
The world community does not invest enough funds into education
The world leaders persistently invoked the world community during the forum to give priority to partnership relations with developing countries and pay attention to necessity to increase financing of educational area.
There is a risk that some countries are falling behind the world's educational trends
Experts and political leaders from emerging economies in South America, India, Africa, the Middle East and North Africa talked about the state of education in their countries. Some of them warned that new technologies and automation rapidly change the labour market, and developing countries should invest funds in education and skills so that the inhabitants of these countries could remain competitive on the global labour market in 2030.
Necessary skills are changing
Speakers in the sphere of education paid attention to necessity to develop so-called "humans skills" and importance of reflection of it in educational programmes. In the changeable world such skills and abilities like critical thinking, ability to solve problems, cooperate and work in a team, creativity, and ability to sympathize become very important.
Education may help
In the forum, you could listen to lots of inspiring stories about unusual people, whom education helped to overwhelm unbelievable difficulties in life and to change it dramatically. Education may help not only to get a chance for a more productive life but also to renew the life destroyed by violence.
The subject of violence was not left out during GESF 2018 as well: the teachers from the fields of actions invoke the government to secure the safety of schools, and three participants of school shooting in the state Florida-Parkland share their experience and thoughts about prohibition renewal of such events.
"GESF 2018 set the highest bar and specified the most important vectors, which we have to follow in order to feel ourselves comfortable in a global world in 2030. The key role in this transformation is given to education as a way to help not only to get knowledge but also generally to form a vision statement and values necessary for successful adaptation in a changeable world. It is also important for Ukraine that as many educators as possible at all levels have access to these advanced approaches and could apply them. Concept of the New Ukrainian School which is being implemented nowadays in the primary school is aimed to teaching children to use gained knowledge on practice, and I am happy to realize that such serious changes are already happening in Ukraine". - Summarizes NAVIGATOR Chief Business Development Officer, Viktoriia Yevtushenko.
The next Global Education and Skills Forum will take place from March 22 to March 24, 2019, in Dubai.