This combined panel-board is a unique multimedia solution integrating touch pad, traditional learning board and modern computer technologies.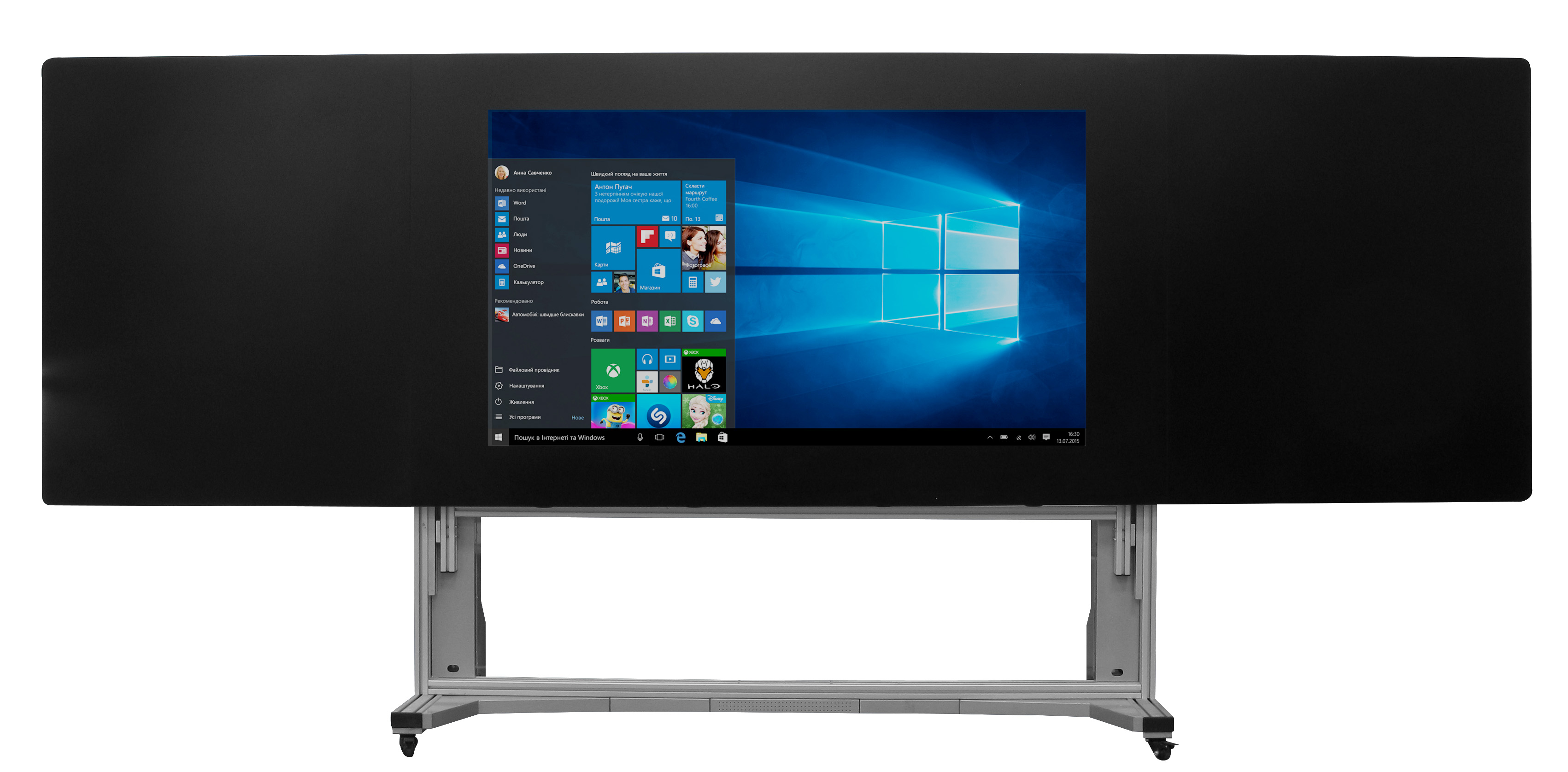 Price: 179 999 uah.
The specific composite cover allows writing with chalk and markers along the entire surface of the panel while the central part of the panel can be used as a touch screen.
Imagine that! How interesting and spectacular can be your lessons with such the device!
The interactive board keeps your learners engaged during trainings and your masters can hold classes in layman's terms using up-to-date techniques.The board can be used to make drawings during lessons in geometry, to hold spelling tests in English with the hand-written to printed text conversion function, to test chemical knowledge with the option of formula recognition function and variety of other features. This makes your learning process exciting both for learners and their teachers.
Applications: learning environment in schools, universities and other educational institutions.
Benefits:
User-friendly all-in-one form-factor – you don't need to worry about any connection to PC or projectors.
Integrated speakers ensure powerful sound of your multimedia files.
Advanced functions for easy panel operation – you can write with chalk or markers on the entire panel as well as fix your educational documents with magnets.
Possibility to display Full HD and 4K content – these are bright rich-color images in Full HD quality in any lighting conditions and concerns about health vision of your learners.
10-point touchscreen allows a number of users to operate simultaneously the board to the full extent during classes or presentations.
Panel elevation can be individually adjusted according to a user height.
Flexible settings – brightness and audio settings can be adjusted to room lighting conditions and noise level.
Extra strong photovoltaic scratch-resistant glass.
Microsoft® Windows® 10 Professional on-board opens integration possibilities for learning materials, presentations, interactive tests etc.
Technical specifications:
Form-factor: 70" Interactive panel
Processor: Intel Core i5 7400U 3.0 GHz, 6MB cache
Hard Disk: SSD 240GB
RAM: 8GB
I/O ports: 1xVGA/ 2xHDMI out/ 1xHDMI in/ 4xUSB 2.0/ 2xUSB 3.0/ 1xUSB power/ 1xUSB BM/ 1xAudio out/ 1xRJ 45 Gigabit LAN/ 1xRS-232 (COM port)
Wireless connection: Wi-Fi 802.11 ac/b/g/n + Bt
Screen: 70" 178°х178° IPS 4К panel 3840x2160х60Hz
Brightness: 400 cd/m²
Contrast: 5000:1
Touch screen: Infrared, 10 point multi-touch
Integrated speakers: 2х10 W
Protective glass: 4 mm
OS: Microsoft® Windows® 10 Professional
Dimensions: 4024х1224х20 mm
Body: 2-in-1 interactive panel and board, specific body material allows using both chalk and markers, fix magnets along the entire panel surface.
Get consultation: +380936787021 , education@navigator.ua