NEW ACHIEVEMENTS OF SMART KIDS PROJECT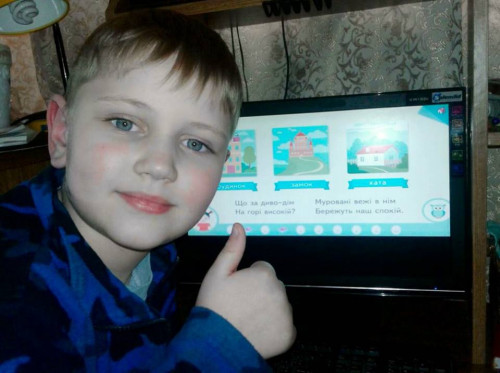 In the All-Ukrainian project, which is targeted at implementation of an interactive study under the principles of the New Ukrainian School and which is being carried out by the Institute of Education Content Modernization together with Institute of Information Technologies and Educational Tools, and personal devices, which are used by the pupils during the classes are the joint development of the NAVIGATOR, Impression Electronics, Microsoft, Intel being equipped with a new unique software fromMultimedia Publishing HouseHouse "Rozumniki", a new record was set!
Pupils from all over Ukraine completed together 2 000 000 tasks!
"Rozumniki" reposts that the tasks under the anniversary number 2 000 000 were completed by the pupil of 2-A form of "Rozumnyky" of Chernivtsi Gymnasium No.2 Nikita Vikhrov!
We congratulate all participants of the project "Smart Kid" to anniversary completed task!
The statistics of project demonstrates that the number of participants having been involved is growing and for now the project united 5821 pupils and 703 teachers all over Ukraine!
"Rozumniki" and NAVIGATOR as a partner of the Smart Kids project decided to make a present to the teacher of 2-A from of Chernivtsi Gymnasium No.2 where Nikita studies.
The teacher Snizhana Paraputs will receive a smartphone Impression ImSmart C571 from Impression Electronics!
Teachers of the Smart Kids project are innovators who make experiments bravely and enthusiastically and teach their pupils in accordance with the latest teaching technics that comply with the principles of the New Ukrainian School.
You may follow the statistics of completing the tasks in real-time mode here http://edugames.Rozumnyky.ua/statistics/