New Ukrainian School!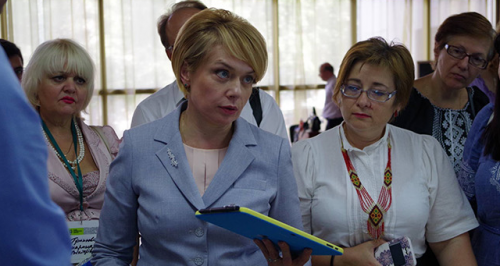 August 18-th was held All-UkrainianYearly Conference of Educational Professionals, which gathered educators and distinguished guests to discuss the pilot project "New Ukrainian School". The Navigator together with the Publishing House Rozumniki presented their solutions specially designed to the needs of the educational sector.

The conference was attended by over 250 educators from all over Ukraine, who are well aware of the importance of transfer schools to the new level. It depends on the quality education that young Ukrainians will receive, the future that they will build in the country depends on!

Among the distinguished guests of the event are Prime Minister of Ukraine Volodymyr Groisman, Minister of Education and Science Lilia Grynevich and Deputy Minister of Education and Science Pavlo Hobzey.

At the exibition demo stand, "The Rozumniki" were presented the best modern developments and integrated solutions for education, which can be used in the project "New Ukrainian School". In particular, the unique joint Impression Electronics product and Elecntronic Interactive Media - a student notebook in the patriotic yellow-and-blue Impression 110 Education Series based on the Intel processor and Windows 10 Education, which has already come to taste to students, and in conjunction with other elements of the ecosystem "Intelligent class "alows students of the preliminary school to study productively in gaming format.
Solutions Smart Kids will run this education year in more than 200 schools throughout Ukraine. More than 7,000 pupils will have the opportunity to try and enjoi new technologies in the education system.