MINISTER OF EDUCATION AND PRIME MINISTER ATTENDED EXHIBITION OF INNOVATIVE TECHNOLOGIES FOR NEW UKRAINIAN SCHOOL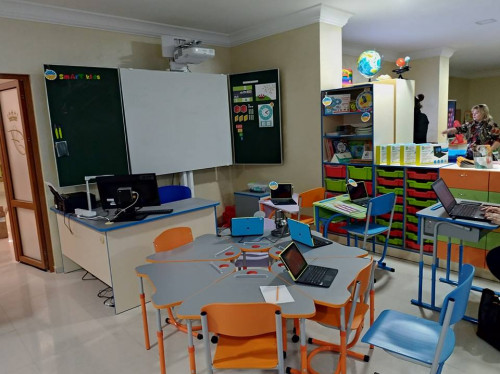 An extended government meeting through the President of Ukraine Petro Poroshenko, Prime Minister of Ukraine Volodymyr Hroisman, Minister of Education Liliia Hrynevych, members of the government, heads of regional state administrations, regional councils, cities, joint territorial communities took place in Vinnytsia on the 5th of April.
During the meeting, they discussed the issues of decentralization and regional development.
Within the event, an exhibition of innovative technologies for New Ukrainian School took place, whereMultimedia Publishing HouseHouse "Rozumniki", NAVIGATOR and partners presented a solution for equipment for the classrooms of primary school.
Innovative individual pupil`s laptops-transformers instead of heavy schoolbooks, multimedia boards instead of chalkboards, teacher's innovative PC for comfortable control over the class instead of paper gradebook – future is already here!
The youngest pupils are worth of the best things, and implementation of the principles of New Ukrainian School into the learning process will help them not to lose interest to study and run to school like to s holiday every day.
Exhibition of innovative technologies for New Ukrainian School and reaction of the administrative officials on it demonstrates an arising interest to the issue of substitution of old-fashioned school equipment. It is approved by the numbers: this year the Government allocated 998,7 millions of hryvnias for procurement of equipment for the first form, and the Ministry of Science and Education developed methodical recommendations with regard to the criteria necessary for equipment.
In such a way, modern innovative educational system which promotes play-based learning will develop in the school. It will help the youngest pupil to adapt to learning process more quickly and teachers will be able to achieve a better involvement of the pupils into completing the tasks.
"It is a pleasure to learn in such a school. And graduation from such a school is a competitive advantage in adult life". – commented on the exhibit Prime Minister of Ukraine Volodymyr Hroisman.