II International Scientific and Practical Conference "Modern Trends in the Development of Information and Communication Technologies in Education"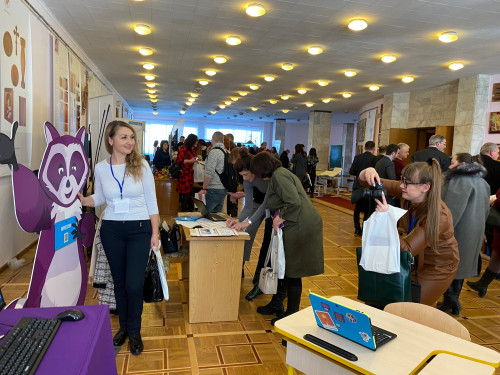 On February 13-14, the international educational forum Digital Transformation of Education was held in Ivano-Frankivsk. The event was organized with the support of the Verkhovna Rada Committee on Education, Science and Innovation, the Ministry of Education and Science of Ukraine, the Ministry of Digital Transformation of Ukraine. Traditionally, the organizers have created a real celebration for visitors! Every resident of Ivano-Frankivsk had the opportunity to learn and test the latest innovative technologies for education and business!
Basically, the event was aimed at teachers and representatives of local authorities in order to understand the prospects of providing educational institutions of Ukraine with technologies and necessary tools for the educational process.
More than 50 companies of manufacturers and startups presented modern smart solutions in the educational process and master classes on working with the latest educational equipment, as well as software for educational institutions.
Among the participants and the company NAVIGATOR. We presented ready cases on the use of the Impression ImBoard Interactive panels, demonstrated the sample space how the classroom of the New Ukrainian School might look like: student workstations in the form of transformer tablets, a teacher's workstation, laptop or all-in-one, and a stationary powerful Impression PC.
Within the framework of the program of the scientific-practical conference, a practical workshop was held on integrating Microsoft cloud services, in particular Office 365, in the work of a teacher and student. More about the event here https://cutt.ly/WrB6Uz9