Start your new school year with Impression!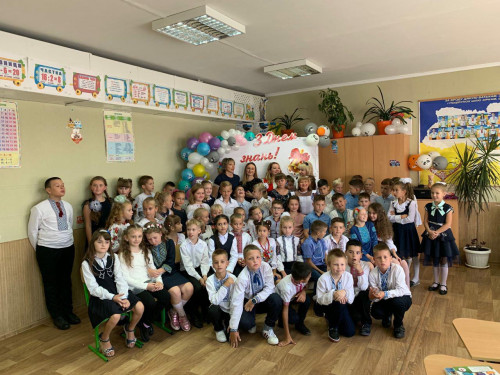 This year, the participants of the Impression School project called the anniversary First Call to school!
On September 2, 2019Vasilkivskii Academic Lyceum "Success" celebrated its 35th anniversary and reopened its doors to small first-graders, for whom the "white spot on the map" school is a long-awaited and exciting step into the future! They interesting what it the country School?
The NAVIGATOR team has joined the holiday! Our friends and active students of 3-B and 4-D classes invited to their audience! They talked about the summer holidays, answered all the simple and difficult questions of the entertaining quiz, which the NAVIGATOR prepared for them, and then gave us the balloon with raccoons!
All are inspired by new achievements!
The NAVIGATOR team congratulated the students on the beginning of the new school year and wished them great victories, good grades, true friends and fulfillment of desires! And, of course, all this becomes impossible without the main vehicle - the Teacher!
Thanks to the active integrators of innovative tools in the educational process, the participants of the Impression School project, the teachers JuliaKarpovich and MariaBogdan!
Our meeting ended with a festive photo shoot and pleasant emotions!