EdCamp Ukraine in Kharkiv: How teachers went on a trip to the world of Minecraft!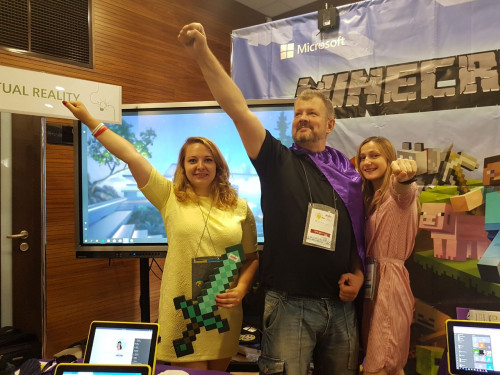 The Fifth National (un)Conference EdCamp Ukraine, which took place in Kharkiv from 07 to 09 July, brought together over 1,000 teachers from around the country and about 200 foreign experts on education. In order to answer important questions and inspire teachers, the Minister of Education and Science of Ukraine Lilia Grinevich visited the event.NAVIGATOR company with Microsoft Ukraine also participated in (un) conferences and introduced the innovative technology for teaching Minecraft Education Edition in partnership. True superhero and researcher felt all the Ukrainian educational community!
A virtual reality helmet immersed everyone in the Minecraft world! It was a great emotion! Teachers said they understand why children are so enthralled with this game now! In addition, the teachers have learned how to create creative projects with the help of the famous platform around the world and apply them for teamwork!
More about the technology of Minecraft Education Edition You can find out here
The role of the gamer was tested by each member of EdCamp thanks to the latest NAVIGATOR devices – transformer pads Impression 110 ES V2 and super-powerful Interactive flat panel Impression ImBoard! More about the event here